Color Psychology:
Color is a powerful thing. It is a strong communication tool and can be used to signal action, influence mood, and even influence physiological reactions. It can elicit emotions, create an atmosphere, and boost creativity. The psychology of color is based on the mental and emotional effects colors have on sighted people in all facets of life. There are some very subjective pieces to color psychology as well as some more accepted and proven elements. This topic is closely related to many others like optical illusions and complementary colors, but it also has its own unique qualities like the psychological meanings behind warm colors and cold colors. When choosing your new paint color or other items that involve color, take into consideration the psychology of colors.
Color can have a significant effect on not only a person's emotions, but entirely different responses and feelings. Some colors tend to be more universally appealing or "friendly" while others are thought of as disruptive or harsh. On the other hand, popular opinion says that some colors greet us with serenity and peace while others induce a sense of urgency or agitation.
Most people agree that colors can have a powerful effect over our mood. According to color psychology, different colors can have an effect on the way people think and act.
Common Psychological Effects of Colors
We all know that different colors can have different effects on us. But how exactly do they shape our emotions and actions? We've put together a list of some common psychological effects of color :
Color Psychology: The Color White
purity
innocence
cleanliness
sense of space
neutrality
mourning (in some cultures/societies)
Color Psychology: The Color Black
authority
power
strength
evil
intelligence
thinning / slimming
death or mourning
Color Psychology: The Color Gray
Color Psychology: The Color Red
love
romance
gentle
warmth
comfort
energy
excitement
intensity
life
blood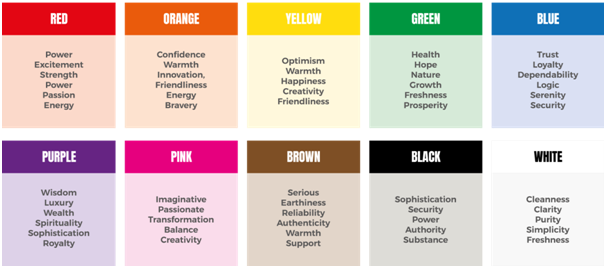 Color Psychology: The Color Orange
happy
energetic
excitement
enthusiasm
warmth
wealth prosperity
sophistication
change
stimulation
Color Psychology: The Color Yellow
happiness
laughter
cheery
warmth
optimism
hunger
intensity
frustration
anger
attention-getting
Color Psychology: The Color Green
natural
cool
growth
money
health
envy
tranquility
harmony
calmness
fertility
Color Psychology: The Color Blue
calmness
serenity
cold
uncaring
wisdom
loyalty
truth
focused
un-appetizing
Color Psychology: The Color Purple
royalty
wealth
sophistication
wisdom
exotic
spiritual
prosperity
respect
mystery
Color Psychology: The Color Brown
reliability
stability
friendship
sadness
warmth
comfort
security
natural
organic
mourning (in some cultures/societies)
Color Psychology: The Color Pink
romance
love
gentle
calming
agitation
Colour can evoke emotions, it essentially is expressions of our feelings and emotions. Human beings sometimes take colour for granted and don't always appreciate the effect that it has on us, but we all react consciously or unconsciously to colours in some way. Every person on this planet is exposed to a number of emotions as a natural part of everyday life. Elements with affect on human emotions include colours, among others (for example smells and sounds).
Color Matters in Psychology: Color Matters In Psychology explores why we think, feel and do the things we do based on the colors around us.In psychology, color and its impact on the brain is well-established. Color affects our political choices, our appetite and sense of safety. It can have healing properties, or it can be used to identify danger and evil. Color is always doing something, even when we don't realize it.