Introducing Premarital Counselling:
Premarital Counselling is a specific type of therapy that helps couples prepare for marriage. It is done basically to increase the understanding between couples. An individual conducting couple counselling sessions is known as a couple counsellor. She/he is also called a couples psychologist. Relationship counsellors for couples are trained professionals and possess high skills. They have specialisation in couples counselling.
Participating in couples counselling prior to their wedding leads to a built-up of a strong and healthy relationship. The couples therapy increases trust, faith and bonding between couples. Premarital counselling gets to know the problems, issues and conflicts amongst the couples. Solution focused couples therapy assists to get rid of all issues and problems and guides in resolving all the conflicts. This is the greatest advantage of couples relationship counselling. Premarital therapy also helps couples identify their expectations for the marriage and address any significant differences they might have.
Goals and Objectives of Premarital Counselling:
*Change in view of relationship:*Change in view of relationship:
During the sessions of couples relationship counselling, couple counsellors ask both the partners to see their relationship in a more objective manner and focus on learning how to perceive their interactions in positive vibes.
*Understanding of how cultural factors could be a barrier:
In India, cultural beliefs vary from family to family. This could hurdle a good relationship. These cultural variations affect daily activities of both the partners such as behaviour, working, eating, managing finances etc. These fluctuations in day-to-day activities disturb the whole relationship up to a serious level. The earlier couples identify, understand and manage these differences it is better for a relationship. Couples psychologist can help reveal these problems and teach the couple how to use the art of compromise.
*Elimination of deteriorated behaviour:
Psychologist couples therapy helps partners identify and improve deteriorated behaviours such as nature of dominance and control, addiction and issues of inferiority and superiority.
*Better Communication:
Good communication and understanding are one of the significant factors of a healthy relationship. Best couples therapy teaches both the partners the effective ways and importance of communicating with each other. The teachings can include open talk of each other's feelings, thoughts, views, expressions and respecting them in a healthy, supportive manner.
*Decrease emotional isolation and avoidance:
The emotional couples therapy insists both the partner's necessity of expressing their thoughts and feelings freely. Many people feel awkward or ashamed of talking about their opinions and views. This could well rise to a serious issue in a relationship. Therapists for couples help and guide partners in open expression of their feelings without any sort of fear and in a supportive manner.
*Identifying Strengths:
The best couple counsellor asks and suggests couples to identify each other's as well as strengths and strong commendable aspects of their relationship. These strong aspects help couples build a solid foundation to build up a marriage.
Ways to prepare for couples counselling:
The best and only way to prepare for a marriage counselling is to find a licensed marriage or couple or family therapist. You may consider the recommendations of your loved ones. Before scheduling counselling sessions with a particular therapist check whether the concerned couples psychologist suits you and your partner. You are free to ask the following questions to a concerned couples psychologist:
Education –
What's your educational qualification and training background? Are you licensed and experienced from the authorised and reputed institute? Do you possess relevant degree and skills?
Experience –
How long you have been practising premarital counselling? What's the authenticity and success rate of your premarital counselling?
Steps of Treatment –
How long will each session last? How many sessions we have to attend approximately?
Fees and Insurance –
How much do you charge for each session? Do you accept my insurance?
Common topics of challenges addressed in premarital counselling:
Resolving conflicts –
How does each partner handle and resolve conflicts? What are the perceptions and correspondence of issues? How can partners cope with the topics they disagree?
Communication –
How do and how frequently couples communicate? Do they talk openly and freely or use any virtual medium to communicate? What steps should be taken by both the partners to improve communication?
Expectations –
What do partners expect from each other? Do they respect each other's opinions and expressions? A premarital therapist encourages each partner to discuss their expectations, after which the couple can work toward finding ways to compromise.
Personal values –
Do both the partners have similar personal value? Is there any inferiority superiority complex amongst each other? Couple therapist suggests sharing the values as it raises the chance of staying together.
Discussing finances –
Are couples comfortable enough to talk about each other's spending and earnings? Many people are uncomfortable discussing their finances. The spending and budgeting frequently create conflicts in a marriage. A couple counsellor helps each partner determine his or her own financial style and then ask to resolve the concerned financial issues in a supportive manner.
Family –
Do both the partners want to have a child and how many? If so, then what amount of gap should they include between two children? A marriage therapist suggests better techniques for planning a family according to the couples needs and requirements. The suggestion may depend on both the partner's professions too.
Sex –
Are both partners comfortable discussing sex? What should be the frequency of sex? What re the expectations of each partner in terms of intimacy and a sexual relationship. The ability to discuss such sensitive issues freely and openly leads to a successful marriage.
Advantages of Premarital Counselling:
Strength building and conflict resolution skills
Emergency couples counselling helps build strength and better understanding amongst couples who are about to get married. Premarital counselling raises the ability of conflict resolution between both the partners as it is a sign of a happy married life.
Earlier identification of issues
Marriage life becomes disastrous when the expectations of both the partners go wrong. A marriage therapist discusses the expectations of both the partners before it gets too late. If there are any differences found in the expectations between the couple, a couple counsellor helps and guides to cope with those differences and sort out the issue.
Avoidance of heated argument and toxic resentments
Resentment and heated arguments are poison to a good relationship. During couple counselling sessions couples learn to avoid such poisonous emotions.
Built-up of trust and faith
Participating in therapy for couples with trust issues helps in gaining more trust and faith among the partners. Gaining trust and faith are the two wheels of a vehicle that indicates the sign of running a vehicle forever. Trust and faith work wonders in the life of couples as it's a foundation of a healthy relationship and unbreakable bond.
Fear reduction about the longevity of the marriage
Premarital couple counselling enables the couple to distinguish and go up against fears about shaping and keeping up a fruitful relationship.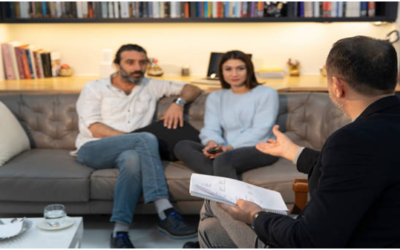 Marriage counseling, also called couples counseling, is a type of psychological therapy. Couples to rebuild their relationships recognize and resolve conflicts, improve their relationships, marriage counseling helps a lot. You can make considerate decisions about...
read more
What are you waiting for?
You can't change the past, but by working together with a counselor, you will understand and resolve challenges in your life. Contact a counselor for relieving emotional distress and other cognitive health issues for a better tomorrow.