Marriage counseling, also called couples counseling, is a type of psychological therapy. Couples to rebuild their relationships recognize and resolve conflicts, improve their relationships, marriage counseling helps a lot. You can make considerate decisions about rebuilding and strengthening your relationship or going your separate ways through marriage counseling.
Licensed therapists provide marriage counseling, they are also known as marriage and family therapists. These licensed therapists have graduate or postgraduate degrees.
Marriage counseling is often short term. In some situation one partner choose to get treatment singly from therapist alone, actually marriage counseling generally includes both partners. The particular treatment plan depends on the situation.
Marriage counseling can only be productive when both the partners are ready to take responsibility for their problems, accept each other's faults and are willing to attend counseling for their great future.
The most exceptional relationships in one's life, is probably a marriage, however; marriages have their fair share of 'highs' and 'lows' as well. Sliding through these tough times throughout the marriage smoothly is often difficult and exhausted.
Resentment and stress increase between the couple due to unresolved issues. Couples usually confide in their friends and family to look for help and advice which might seem to work for a short period but in reality, they give a biased opinion.
Marriage has 4 pillars which are essential for a healthy marriage to stay alive. The relationship goes in trenches if any of the four pillars take a crash.
Communication – Communication is the footing structure for any healthy relationship. Some of the issues faced due to communication issues in a marriage are arguing, criticizing, disrespect and misunderstanding.
Finance – Couples are facing with financial issues which might lead to conflicts and differences in opinion. Debts, managing daily expenses, overspending, and poor budgeting are some of the common issues noticeable in couples when they come for marriage counseling.
Family – Marriage is more than just the couple; it is the commitment with family. Couples coming for counseling often are troubled by familial interference, parenting issues, and cultural differences. There is an old saying, you don't just marry a person, but you marry their whole family also.
Sex and Intimacy – Sex and intimacy are surely one of the most important parts of marriage. Intimacy includes more than the mere physical act of sex like showing sentiments and care. Infidelity, cheating, and taking for granted attitude are some of the issues in this pillar.
Importance of Marriage Counseling –
Safe and Non-judgmental Environment
Marriage counseling provides all couples with safety to talk openly about their issues without the fear of judgement. The Counsellor makes the couple trustful that anything they speak will not be talked about outside the room. Hence, offering a safe space to communicate without hesitation.

Mediator
A marriage counsellor can help improve your relationships by teaching you better communication skills; he/she acts as mediator/coach. They are particularly helpful in situations where both people want to break the cycle but do not know how, or when one of them is struggling with following through.
Analyze Patterns
Couples work closely with their counsellor to identify the behavioural patterns that lead to disagreements and alter them. Utilizing counseling can help couples learn to manage conflict in healthy ways, avoid resentments, meet emotional needs of both partners, pinpoint what needs attention next in their relationship, succeed at parent-child interactions, understand the implications of divorce on themselves and future relationships.

Tools to improve communication
For couples who are no longer able to communicate effectively with each other, marriage counselling can be an important tool. It allows for simultaneous discussions, rather than one-sided discussions which often do not help the couple's issues. Furthermore, it provides a platform where all of their problems may be rigorously addressed and resolved.
Realistic expectations
Marriage counseling helps the couples make a more truthful picture for each other and their expectations from each other. This helps the couple set more realistic goals in the process of counseling and life as well as helps to clear misunderstandings and miscommunication.

Accountability
Learning new tools gives the couple more responsibility for their actions. Counselor often assigns homework to grasp more account table rather than blame or criticize one another.
Marriage counseling is a great approach to solving conflict. It is important to consult an experienced counsellor to tackle serious issues before they become more severe. There is always someone to talk to. Talk to a marriage counselor. In case you have a concern or query, consult a specialist and get answers to your questions!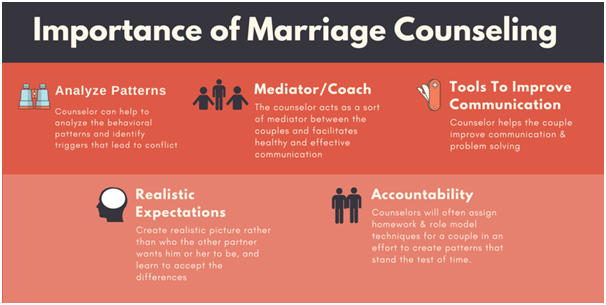 Why it's done
Marriage counseling can help couples in all types of intimate relationships — such as sexual orientation or marriage status.
Some couples seek marriage counseling to gain a better understanding of each other and intensify their commitment to the partnership. Marriage counseling can offer help for those couples who plan to get married as well as those that need premarital counseling. Premarital counseling is an efficient way to sort out the couple's differences before they wed.
In other cases, couples look for marriage counseling to improve a problematic relationship. You can use marriage counseling to resolve many specific issues, such as:
Communication problems
Sexual difficulties
Conflict of Child-rearing Understanding
Substance abuse
Anger
Infidelity
Marriage counseling might also be used in cases of domestic abuse. If violence has escalated to the point that you're afraid, though, counseling alone is not enough. In this situation contact the police or a local shelter or crisis center for emergency support.
How you prepare
The only preparation needed for marriage counseling is to find a best therapist for proper treatment. You can ask to your primary care doctor or health provider for a referral to a therapist. Loved ones, friends, your health insurer, employee assistance program, clergy, or state or local mental health agencies might offer suggestions. It can be useful to interview some therapists before you decide on one. If you're hesitating to visit or finding difficulties to choose right therapist or counsellor for you then no worries, the PsychologieIndia.Com can help you to find the best counsellors for online sessions as well as nearby you!
Learning how to stop fighting with your mate is essential in a successful marriage. Before looking for a therapist, consider whether they would be a good fit for you and your partner. You might ask questions about:
Education and experience. What is your educational and training background? Are you licensed by the state? What are your years of experience with our type of issue?
Logistics. Where is your office? What are your office hours? Are you available in case of emergency?
Treatment plan. How many treatment and counseling sessions should we consider to have? How long is each session?
Fees and insurance. How much fee do you charge for each session? Are your services protects by our health insurance plan?
Do you provide online counselling services?
Can I get the female counsellor?
What you can expect
Couples turn to marriage counseling if they need help with making improvements in their relationship. Available skills may include learning to handle disagreements better, the importance of shared values, and how to make room for both partners. Working with a therapist, you'll learn skills to strengthen your relationship, such as:
Open communication
Problem-solving
How to discuss differences rationally
You'll talk about the good and bad parts of your relationship as you identify and better understand the sources of your conflicts and disagreements. Together you'll learn how to identify issues without criticize and instead examine how things can be improved.
Following are some points to keep in mind when considering marriage counseling:
It might be tough to talk about your problems with the counselor. It can difficult and uncomfortable to talk about problems, and you might find yourself fighting during sessions. However, your therapist will be able to act as a referee and help you cope with the emotions that can arise.
You can go by yourself. Even if your spouse refuses to go to marriage counseling, it's important for you to go. It will be more challenging repairing the relationship this way, but you learn more about yourself and your reactions by going to counseling alone
Therapy is often short term. Some people require only a few sessions of marriage counseling, while others need it for several months. The particular treatment plan will depend on your situation. Sometimes, marriage counseling helps couples discover that their differences truly are incompatible and that it's best to end the relationship. Sessions can then targets on skills for ending the relationship on good terms.
You might have homework. Your counselor can recommend communication exercises at home to help you practice what you've learned during your session. For example, talk face-to-face with your partner for a few minutes on daily bases about non stressful things — without any interruptions from TVs, phones or children.
You or your partner might want additional care. If one of you is dealing with mental illness, substance abuse or other issues, your therapist might work with other health care providers to provide more complete treatment.
Making the decision to go to marriage counseling can be difficult. If you have a troubled relationship, however, seeking help is more essential than ignoring your problems or hoping they get better on their own. Sometimes taking the first step by admitting the relationship needs help is the toughest part. Most individuals find the experience to be intuitive and empowering.
Types of Couples Therapy
Emotionally Focused Therapy (EFT) looks for to work with couples more effectively. It targets on emotions as the key to a person's relationship needs and helps to develop emotional awareness, compassion between partners, and acceptance. In couples therapy, EFT can add strength to the emotional bond between partners and create a more secure attachment.
The Gottman Method is based on many years of broad research. His decades of research inform his marital therapy treatment, in particular emphasizing a thorough assessment in the beginning and addressing three parts of a relationship: friendship, conflict resolution, and shared meaning.
How can marriage counselling help couples?
If unhealthy relationship patterns can be recognized early and agreed upon, the process of real change can start.
A motivated couple can start to explore their problems from a new point of view and learn new ways to recognize and settle conflicts as a result of the tools provided by the therapist.
Partners can start to build trust and improve communication.
A couples counselor can provide "neutral territory" to assist couples agree upon and work through tough problems with support.
Couples can choose to rebuild their marriage and make a renewed responsibility, or clarify the reasons why they need to separate or end the marriage.